WE TAKE OUR ECO-RESPONSIBILITIES!
Avec conviction. Dans l'action.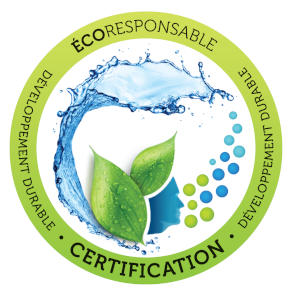 "For a company and an organization, being ECO-RESPONSIBLE ™ means adopting and advocating responsible practices on a daily basis with a view to collective improvement of the quality of life and preservation of the environment."
– Pierre Fillion, CEO of the Council for Sustainable Industries.
The ECORESPONSIBLE ™ Certification offers a frame of reference for organizations wishing to gradually implement eco-responsible practices. These will enable them to improve their overall performance, in economic, environmental and social terms, as well as in terms of governance.
[KGVID poster="https://parcourstransitionecologique.com/wp-content/uploads/2019/12/Parcours-Developpement-Durable-presente-Sollertia-Cohorte-2018_thumb1.jpg"]https://parcourstransitionecologique.com/wp-content/uploads/2019/12/Parcours-Developpement-Durable-presente-Sollertia-Cohorte-2018.mp4[/KGVID]