Do you know the benefits of an eco-responsible process?
Environmental issues, Corporate Social Responsibility, Certifiable standards … So much for an organization to consider these days. If these were, at first, accessories, they are now essential to the well-being of a business. Whether dealing with employee motivation, overall reputation, or economic performance, every project has a lot to gain by integrating environmental considerations.
While the advantages of a CSR process are multiple, we want to present our 3 favorites!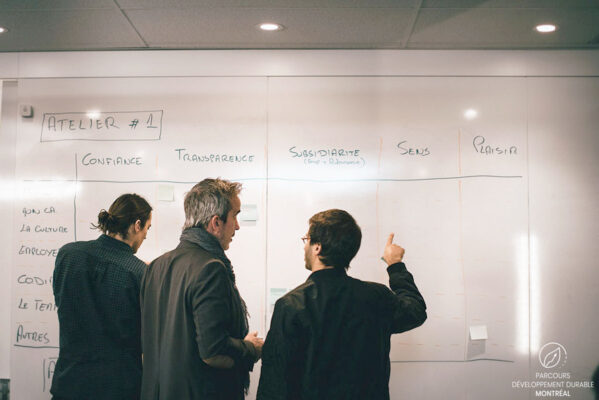 Overall improved performance
Numerous studies show that taking the environment into account in its strategies positively influences the company's social and financial performance. This is about a real competitive advantage! As the Canadian Government asserts; "With a study of 275 global companies, Fortune 1000 found that the 50 most sustainable companies outperform the 50 companies at the bottom of the list by 38%, in terms of shareholder gains over a five-year period."(Government of Canada, n.d .: online).
Thriving human resources
A sustainability perspective allows a reduction in physical and mental health costs, employee engagement, a better image of the company, and ultimately an increase in the sustainable recruitment of qualified and interested personnel. A Globescan study shows that among the majority of employees, feelings of loyalty and motivation towards the company increase as the commitment to an eco-responsible approach materializes.
Organizational and managerial innovation
New challenges mean new possibilities! This is an opportunity to reflect, as a team, on the actions and changes available to the company, and to see how it could improve! For example, the participants of the 2020 cohort of the Montreal Sustainability «Parcours» had the chance to participate in a workshop on biomimicry with Moana Lebel. They were able to discover how organizations are inspired by nature to develop products, services or ways of working inspired by living organisms.
Certification and Sustainability «Parcours»
And you? Would you like to bring an eco-responsible turn to your business? In addition to offering personalized support and training on several themes, the «Parcours» allows participants to obtain the Level 1 ECORESPONSABLETM Certification. This certification provides a frame of reference for any organization wishing to implement environmentally friendly practices. The benefits of the latter affect overall performance, economic, environmental and social plans, as well as the governance of the organization. The program enables organizations to leave a smaller ecological footprint, assert a certain type of leadership, and most importantly, build a greener and more sustainable future for generations to come. In addition, ECORESPONSIBLE ™ Certification is synonymous with positive impact on revenues and profitability, visibility and credibility, innovation and development, attraction and retention of talent, as well as on strategic marketing opportunities.
So, are you ready to take the plunge? Ready to take your business to new horizons?